29/11/10 14:17 Filed in:
Kitchen Orchestra
| New Release
NEW RELEASES NOVEMBER / DECEMBER 2010
KITCHEN ORCHESTRA & PÅL JACKMAN:
Jul (i sin helhet) på Jæren / Det bor en evighet i deg
(CCAP116)
Listen / download / preorder vinyl on Bandcamp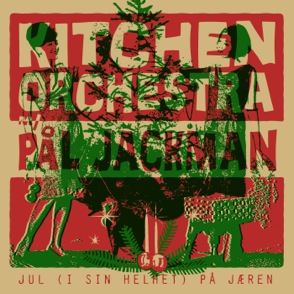 Digital (bandcamp) release 29. November. Vinyl / digital (iTunes etc) release 13. December
Collaboration between Kitchen Orchestra and Pål Jackman
Genre: pop, soul, rock
Sounds like: Classic x-mas song in the spirit of Phil Spector

English:

Pål Jackman teamed up with the 16 piece Kitchen Orchestra for a live recording of this track that Pål wrote with Marko Kanic a couple of years ago. In two hours the orchestra recorded the two tracks on this single.


Norsk

Denne singelen skulle egentlig ikke slippes før 13. Desember, men siden den allerede har begynt å lekke på nettet har vi nå satt opp en side til lytting, digital nedlasting og forhåndsbestilling av vinyl-utgaven.
Singelen er trykket på rød vinyl i et begrenset opplag, pakket i et spesialomslag fra Stumptown Printers i Portland USA med design og trykk av Kjetil Brandsdal. Vinylsingelen sendes ut ca 15. Desember. "Jul (i sin helhet) på Jæren" ble spontant spilt inn live på Tou loftet i Stavanger i et musikalsk samarbeide mellom Kitchen Orchestra og Pål Jackman. Til B-siden ble balladen "Det bor en evighet i deg" laget og spilt inn i samme draget. Singelen blir utgitt på en lekker 7" vinylsingel, og er også tilgjengelig for digital nedlasting. God jul!


For mer infomasjon, se «Bandcamp» linken lenger oppe på denne siden
29/11/10 14:03 Filed in:
Jorunn Hodne
| New Release
NEW RELEASES NOVEMBER / DECEMBER 2010
JORUNN HODNE - BROKEN MAN
(CCAP114)
Jorunn Hodne facebook
Jorunn Hodne Sonicbids
Jorunn Hodne NRK Urort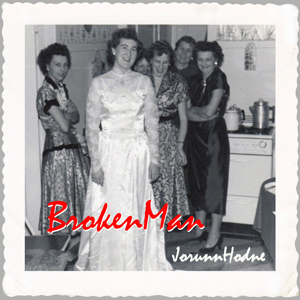 Release 23. November
Brand new track from Jorunn Hodne´s forthcoming album (release spring 2011)
Genre: pop, soul, jazz, vintagepop, burlesquepop
Sounds like: Shirley Bassey, Portishead, Eartha Kitt, Amy Winehouse, Duffy, Grace Jones

English:

Jorunn Hodne's single "Broken Man" is released exactly six months after her debut album "Trespassing" was released. After three domestic tours and two sold-out concerts in her hometown, the band is firmly in place and Jorunn is inspired to write more songs in the same burlesque / vintage pop musical landscape that shaped her debutalbum.
"Broken Man" is the first single from the new writing session. The song tells a tragic story, wrapped in a soulful arrangement performed by her some of the best musicians in town


Norsk:
Tirsdag 23. november lanserte Jorunn Hodne fra Stavanger singelen "Broken Man", nøyaktig et halvt år etter at debutalbumet "Trespassing" kom ut. Etter tre turnéer og to utsolgte konserter på hjemmebane kom bandet skikkelig på plass og Jorunn ble inspirert til å skrive flere låter i det samme burleske poplandskapet som hun skapte på sitt debutalbum.

Broken Man er først singel fra det kommende albumet og er spilt inn med et aldri så lite stjernelag av lokale musikere som skaper et fyldig arrangement til teksten som forteller en historie fra virkeligheten. Sagt om Jorunn Hodne:
"Her er det slektskap til Amy Winehouse og Duffy, men også til Eartha Kitt og Grace Jones på sitt mer kabaretpregede. Kompet er mer jazzrock, og Hodnes mørke stemme har en burlesk karakter. Overbevisende i stil og språkføring."
(Farojournalen)
"Låtene er godt pakket innmed en serie fyldige og fete arrangementer, enten hun gjør smektende soul, låter i jazzland eller burlesk og filmatisk pop inspirert av Shirley Bassey og likesinnede. Fremføringen og formidlingen er autoritær og stilsikker"
. (Fædrelandsvennen)