29/11/10 14:17 Filed in:
Kitchen Orchestra
| New Release
NEW RELEASES NOVEMBER / DECEMBER 2010
KITCHEN ORCHESTRA & PÅL JACKMAN:
Jul (i sin helhet) på Jæren / Det bor en evighet i deg
(CCAP116)
Listen / download / preorder vinyl on Bandcamp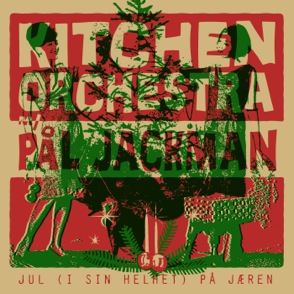 Digital (bandcamp) release 29. November. Vinyl / digital (iTunes etc) release 13. December
Collaboration between Kitchen Orchestra and Pål Jackman
Genre: pop, soul, rock
Sounds like: Classic x-mas song in the spirit of Phil Spector

English:

Pål Jackman teamed up with the 16 piece Kitchen Orchestra for a live recording of this track that Pål wrote with Marko Kanic a couple of years ago. In two hours the orchestra recorded the two tracks on this single.


Norsk

Denne singelen skulle egentlig ikke slippes før 13. Desember, men siden den allerede har begynt å lekke på nettet har vi nå satt opp en side til lytting, digital nedlasting og forhåndsbestilling av vinyl-utgaven.
Singelen er trykket på rød vinyl i et begrenset opplag, pakket i et spesialomslag fra Stumptown Printers i Portland USA med design og trykk av Kjetil Brandsdal. Vinylsingelen sendes ut ca 15. Desember. "Jul (i sin helhet) på Jæren" ble spontant spilt inn live på Tou loftet i Stavanger i et musikalsk samarbeide mellom Kitchen Orchestra og Pål Jackman. Til B-siden ble balladen "Det bor en evighet i deg" laget og spilt inn i samme draget. Singelen blir utgitt på en lekker 7" vinylsingel, og er også tilgjengelig for digital nedlasting. God jul!


For mer infomasjon, se «Bandcamp» linken lenger oppe på denne siden
11/12/08 08:56 Filed in:
X-Mas
NORSK:

Det er ikke for sent å shoppe julegaver! Alle cd´er som bestilles fra vår butikk på
Musikkonline
sendes på dagen med A-post fra vårt lager i Stavanger.
Vår etterspurte juleklassikker fra 2004,
(Not Just) Another X-Mas Album
er fremdeles tilgjengelig.

Vår katalog byr på musikk for (nesten) en hver smak, med artister som THOMAS DYBDAHL, HELLDORADO, POPFACE, LANO PLACES, RUB A DUBS, OTTESTAD og mange flere.

I år har vi gitt ut hele 6 album med lokale artister: THIRD AVENUE, STONEFISH BRIGADE, FLYING SHOES, THE NORWEGIAN FORDS, THE LIST, MODAN GARU i tillegg til samleplaten
POP08 - Lyden Av Stavanger
der vi har samlet hele 26 lokale artister på et dobbelt album til enkel-cd pris!

Du kan høre smakebiter både på
Musikkonline
og på
iTunes
, eller sjekk ut hjemmesidene til våre
artister
for mer info, musikk og bilder

ENGLISH:

X-mas shopping! All cd´s bought through our store at
Musikkonline
will be sent the same day by priority A-mail from Stavaner. We cant guarantee delivery before x-mas, but we can promise you good music. For that indie-xmas spirit, check out our alternative X-mas compilation classic from 2004,
(Not Just) Another X-Mas Album
.

Most releases from our catalogue is still available, including albums by THOMAS DYBDAHL, HELLDORADO, POPFACE, LANO PLACES, RUB A DUBS, OTTESTAD and more.

This has been an active year for CCAP, and we have released 6 albums by: THIRD AVENUE, STONEFISH BRIGADE, FLYING SHOES, THE NORWEGIAN FORDS, THE LIST, MODAN GARU as well as the
POP08 - Sound Of Stavanger
compilation featuring 26 local artists.

Check out the music at
Musikkonline
or
iTunes
, or try the direct links to our
artists
for more info, pictures, music & more