28/06/13 13:11 Filed in:
New Release
| Helldorado
Helldorado - Bones In The Closet - reviews and news


The new Helldorado album is now out in Scandinavia and Europe (CD, Vinyl and digital) and the rest of the world (digital). We have been overwhelmed by the positive response on the album. We have collected a few of the reviews and stories written
right here on bit.ly


The album is available for streaming and download on iTunes, Spotify, Wimp, Amazon and everywhere else you find good music. For the LP or CD version, check with you local record shop (distribution through Cargo among others) or visit
Helldorado's bandcamp


A compilation of Helldorado tracks 2001 - 2013:


14/12/12 12:28 Filed in:
New Release
| Distribution
CCAP RELAUNCH PHYSICAL CATALOGUE THROUGH MUSIKKOPERATØRENE


We are happy to announce that next week most of our catalogue will be relaunched through
Musikkoperatørene
(Norway). The catalogue is also available for international distribution. Please contact Musikkoperatørene (tomas [dot] linnes [at] musikkoperatorene [dot] no) or CCAP (tom [at] ccap [dot] no) for more info. There are a few titles missing, these will be added early january 2013. A few of the titles being relaunched on cd and / or vinyl haven´t been available for years, and we are absolutely thrilled to have these titles relaunched and to be working with the dedicated and positive crew at Musikkoperatørene.

All of these titles and more are of course also available for digital download and streaming through Spotify, iTunes, Amazon, Wimp, Deezer & more

Browse our digital catalogue in our
Facebook / Klicktracks store


The following titles are now available through Musikkoperatørene for all record dealers in Norway (in alphabetical order):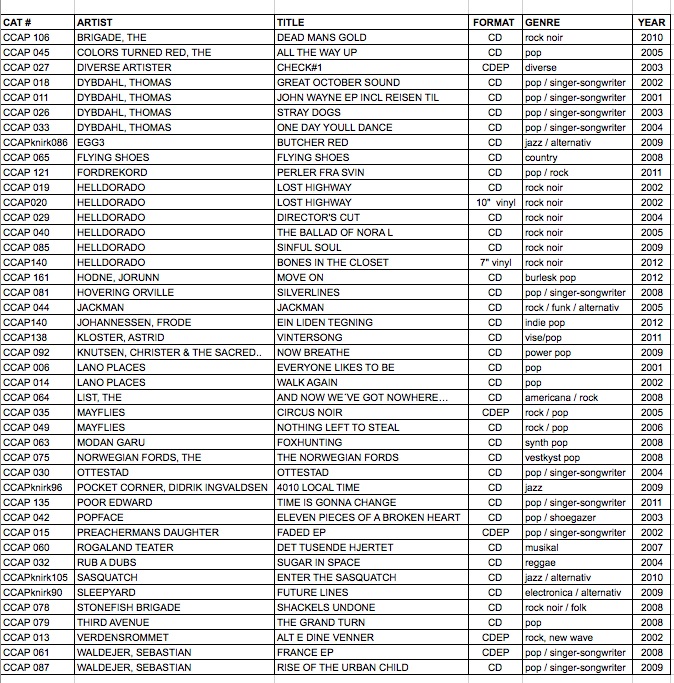 12/12/12 10:33 Filed in:
New Release
| Helldorado
Helldorado- «Bones In The Closet»
7» vinyl and digital and video
«Bones In The Closet» is Helldorado´s first new release since «Sinful Soul» (album - 2009). The new single is available as digital download / streaming as well as 7» vinyl with 3D cover designed and printed by Drid Machine, including 3D glasses and download codes. The vinyl is available through
Bandcamp
Helldorado Facebook
Helldorado website

29/11/12 13:13 Filed in:
Helldorado
| New Release
HELLDORADO - Bones In The Closet
Vinyl & digital release 7. December

7» vinyl with 3D cover (glasses included). Coverdesign and print by
Drid Machine

Preorder your copy at
Bandcamp
Helldorado is back! Bones In The Closet / Lost Highway Motel is first release from the band since the Sinful Soul album in 2009. A new album will be released in the winter 2012 / 2013. The relase will be backed by a tour of both Norway and Europe. The new album is vintage Helldorado: It oozes of sorrow, sin, sex and pain, The band evokes the sensation of a burning sun on your neck, crunched sand between your teeth, a salty taste on your lips, a shaky finger on the trigger of a Colt 45, circling vultures silhouetted against a blue-white sky, a double whiskey on an empty stomach, and the smell of bacon, beans, gunpowder, leather & sweat.There is strong tradition of combining blues, country, rock and hardboiled crime. Murder, prison, crime, confession, remorse and punishment runs like a dark stream through the music of Johnny Cash, Tom Waits, Bob Dylan, Nick Cave and Stan Ridgeway among others. Helldorado brings this tradition into the new century. Heldorado gives you the music, colours, smells and atmosphere usually connected with the image of southern USA and Mexico. As on their previous albums Helldorado presents filmatic music inspired by Morricone and Tarrantino, epic and dramatic murder ballads, Americana, and Rock Noir. Strings and a horn section is added to spice it up. Under the open sky, the wide and burning hot desert landscapes, Helldorados faithless characters burn holes in their souls.
www.helldorado.no
Helldorado Facebook
04/11/11 14:48 Filed in:
Grønn Te
| New Release
HEFTIGE TING! («passionately appealing»)
NORWEGIAN (scroll down for english): "Heftige Ting" er på vei til deg. Den temmelig organiske gjengen i Grønn Tê gir nå ut sin første plate med akkurat dette navnet. Tekstene er på Stavangerdialekt og rytmene har sine røtter i reggae og vestnorsk folkemusikk. Her er banjo, akustiske gitarer, hornblåsing og fortellinger om ugler og tåkete myrer, kald brostein og heftige jenter. Værsågod og forsyn deg.
ENGLISH: "Heftige Ting" means something like "passionately appealing". These songs and rhythms are made to have that effect on you. "Grønn Tê" is a bunch of musicians from Stavanger, Norway. Together they made this music, using banjos, acoustic guitars, mighty trumpets and all kinds of assorted gadgets. The words are sung in the local tongue of their area and they tell stories of foggy swamps, owls hunting, cold and wet nights of apparition and the crossing of blue mountains. All this to rhythms based on reggae as played in the coastal regions of western Norway.
The album is available on streaming and download services now, and will be available as CD and VINYL through local stores (Stavanger area) and on Bandcamp this coming week.
Feel free to share this player: