04/03/10 09:26 Filed in:
Geoff Berner
Geoff Berner brings his klezmer trio to Norway!


"I want to drag klezmer music kicking and screaming back into the bars."

That's the goal of Canadian singer-songwriter-accordion player Geoff Berner, known in Norway for his performances at festivals, on NRK radio, and as support act for Balkan-Surrealist rock heroes Kaizers Orchestra.

In March 2010, he brings his klezmer trio of drummer Wayne Adams and violinist Diona Davies to Norway. These are the musicians who appear on each of his last 3 albums, the Whiskey Rabbi trilogy. This is a rare opportunity to see the full artistic vision: a chaotic, raucous night of drunken dancing.

For advance tickets, and showtime info, contact the venue.


March 3 - Trondheim - Familien

March 4 - Oslo - MIR, with Lasso (elastique)

March 5 - Oslo - MIR, with Lasso (elastique)

Advance Tickets go on sale at MIR Feb. 1!

March 6 - Bergen - Victoria Bar. Get there early! Show starts at 8pm!
Support Act: Pål & hans fantastiske djup-psykologiske ubalanse!
Advance Tix available at venue.

March 7 - Stavanger - Cementen

March 8 - Kristiansand - TrashPop / Charlie's Bar

March 10 - Arendal - Munkehaugen Kultursenter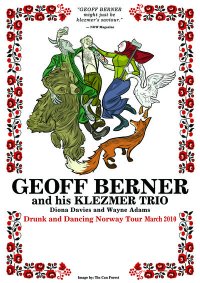 Facebook event
Geoff Berner website